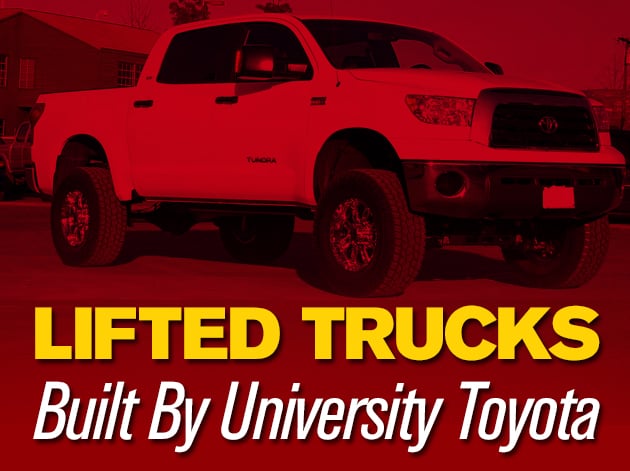 LIFTED TRUCKS IN TUSCUMBIA, ALABAMA
University Toyota does our lifted trucks in house so you know you are getting a great deal and a quality job done. Many lifted truck stores put lifts on high mile trucks, and this can lead to a poor ride and other issues that are associated with lifted vehicles.
The Lifted Truck of your Dreams
At University Toyota, you pick your truck, new or used (if we don't have it we can purchase one for you) and then you pick your lift. What better way is there to get the lifted truck of your dreams?
In addition, our finance department has warranties that can give you peace of mind with your new lifted truck.
Call
1-888-439-3118
and ask for our lifted truck team - we will soon get you the lifted truck that you have been waiting for.
Here's a look at one of our latest lifts:
Click here to view our New Toyota Tundra Inventory
Click here to view our New Toyota Tacoma Inventory
Click here to view our Pre-Owned Inventory